Careers
Rainham Mark Grammar School seeks to maximise the life chances of all of our young people. We seek to develop the knowledge, skills and attributes Rainham Mark Grammar School students need to lead successful and happy lives.
Rainham Mark Grammar School's career education and guidance policy, in keeping with the ethos of the school, seeks to foster wellbeing, promote success and unlock the potential of our students. We seek to deliver on the July 2021 Department for Education Careers Strategy. Some of our strategies are outlined below.
Students embark on their discovery of careers in year 7, with a STEM Roadshow and a talk from the careers adviser.
Every year 9 student has a designated careers interview before they choose their GCSE options, as does every year 11 student, working in partnership with CXK to develop first class careers provision.
Sixth Form students benefit from regular visits to employers, apprenticeship providers and universities as well as a yearly trip to the UCAS Exhibition and a two-day Post 18 Careers Event.
Underpinning all of this is a programme of study, underpinned by Unifrog, in which year 7-13 students complete a range of activities to develop their understanding of careers in the 21st century.
Our Careers Team and Aims
Who is Involved?
The Careers Team is:
Mr McDowell (Director of Sixth Form – Line Manager for Careers) mmcdowell@rmet.org
Mr Price (PSHE lead – Careers Lead) gprice@rmet.org 01634 364 151
The team work to plan and deliver a careers programme, which includes advice for pupils, parents and staff as well as employer engagement and support. Pupils are also supported in their "Career Planning" by Chris Targett and Becky Towley. Both are independent and impartial Career Development Professionals employed by CXK.Ltd (www.cxk.org).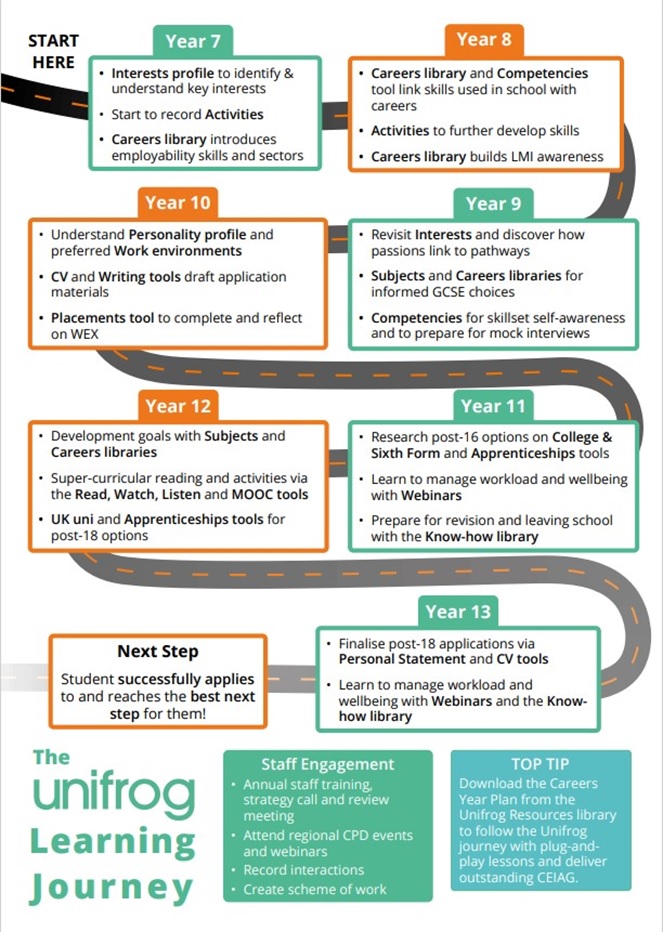 The government has introduced the following mandatory guidance for schools under which are called the Gatsby benchmarks:
The 8 Gatsby benchmarks of Good Career Guidance
A stable careers programme
Learning from career and labour market information
Addressing the needs of each pupil
Linking curriculum learning to careers
Encounters with employers and employees
Experiences of workplaces
Encounters with further and higher education
Personal guidance
We want:
all of our pupils to understand the full range of opportunities available to them, to learn from employers about work and the skills that are valued in the workplace and to have first-hand experience of the workplace;
all pupils to get an excellent programme of advice and guidance that is delivered by individuals with the right skills and experience;
all pupils to get support tailored to their circumstances, with access to face-to-face advice.
all pupils to get the information they need to understand the job and career opportunities available, and how their knowledge and skills can help them in considering suitable careers.
Our Provision
All secondary students will have access to Unifrog Premium by January 2023. Currently, years 11-13 are using it.
In KS3, we are particularly proud of the STEM opportunities we provide to students. Students partake in the STEM Roadshow in year 7. A Year 9 careers fair, organised in collaboration with other schools, also occurs. Year 9 students partake in the National Enterprise Challenge.
All year 9 students have a statutory careers interview with our in house careers adviser, who will is CDI qualified to give clear, impartial advice on careers and employability. This is to prepare them for their GCSE choices.
All year 11 students have a statutory careers interview with an external consultant from CXK, receiving clear, impartial advice on post 16 pathways and beyond. This is to ensure they make the correct decisions regarding A levels or apprenticeships.
Underpinning all of this is access to Unifrog for students, staff and parents/carers.
In the 6th Form, students can visit the offices of Clifford Chance, have fortnightly sessions on Unifrog to work on personal statements and applications, mock interviews, a Post 18 2 Day event and visits from a range of professionals to deliver talks on career opportunities.
OUR PROGRAMME IS REVIEWED AND ASSESSED ANNUALLY, USING A NUMBER OF SOURCES OF INFORMATION, SUCH AS PUPIL SURVEYS THROUGH MICROSOFT TEAMS, NUMBER OF NEETS (THOSE NOT IN EDUCATION OR EMPLOYMENT) AND LOOKING AT ONWARD DESTINATIONS (APPRENTICESHIPS, UNIVERSITIES, JOBS).