Music
The Music department at RMGS has two full time teachers, both of whom are subject specialists. We offer both Music and Music Technology as subjects at appropriate Key Stages in the school.
Music is studied by all students up to the end of Year 9, after which it is available as an option subject at GCSE. All Music lessons are taught in form groups in years 7 to 9, and then as an option class in years 10 and 11. GCSE groups tend to have around 20 students, with A Level groups averaging at 3 for Music and 8 for Music Technology. For such a specialist subject these group sizes represent a healthy uptake of both subjects.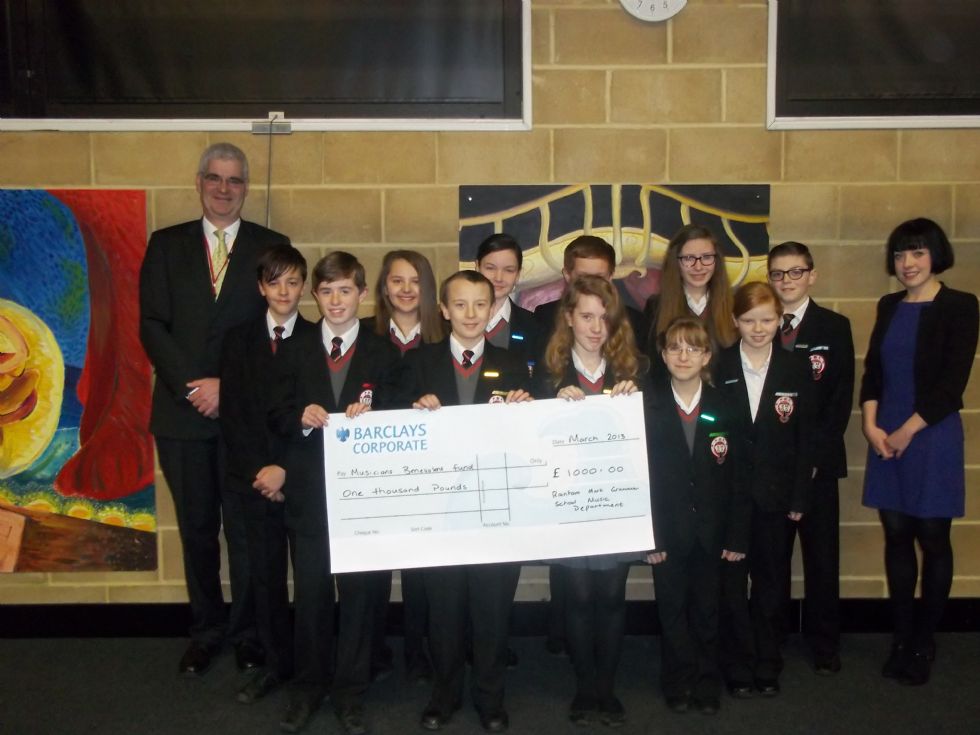 Students are introduced to a wide variety of musical styles, genres and compositional techniques throughout KS3. Students learn the key basics of music through the study of traditional musical notation and an exploration of the elements of music. They will listen to, analyse, and compose in the style of, many different musical genres including world music (Africa, China, India, Latin America), historical periods (Medieval Music, 20th Century Art Music) and popular genres (The Blues, Reggae). Students learn aspects of music theory allowing them to compose to fit many different scenarios through the exploration of scales.
An emphasis is placed on practical skills in music, and in each year of KS3 a unit is dedicated to learning a new instrument; in Year 7 the recorder, Year 8 the keyboard and Year 9 the Guitar and Ukulele.
Students also work with Music Technology in KS3 by recording compositions and performances, producing their own Podcasts, and working with videos to create their own film music.
The Music block is housed in an impressive building separate from the main school, and display work celebrates the achievements of students both in school and out of it. Students who pass instrumental exams have copies of their certificates placed on a "wall of fame", and display boards show photos from recent concerts, workshops, musicals and trips. Class work is displayed in the two classrooms, alongside useful and relevant information to help students. Instrumental lesson times are clearly displayed in the Music foyer, as are details of musical activities and events in the local area, relevant items from published media sources, and details of musical opportunities on offer within the school such as competitions and concert auditions.
The Music department offers all students the chance to audition for concerts, and there are four formal concerts every year. At Christmas there is a very large concert involving all of year 7, all the school ensembles, soloists and smaller musical groups. There is also a Carol Concert which follows the traditional 9 lessons and carols format. A charity is chosen each year, and at least £1000 has been raised every year. Previous charities have included Shelter, Barnardos, Help for Heroes, Musicians Benevolent Fund and Action Aid. At Easter there are two Soiree concerts, one given by lower school pupils and one by upper school pupils. The Soiree concerts take place in the more intimate setting of the Recital Hall. In the summer term the Performing Arts department presents a Summer Revue, a light-hearted variety show organised in conjunction with the Performing Arts A Level class.
Students have the opportunity to put on their own lunch time concerts, either as soloists, as part of a band, or as a variety / battle of the bands type event. Music Enterprise events often include charity concerts, with every aspect of the planning and production of the event being done by students.
The Music department offers students a safe and supportive environment in which to explore and experience Music.
For details of 6th form music courses see here
EXTRA CURRICULAR MUSIC
There are plenty of opportunities for all students to get involved in musical activities – from complete beginners to advanced musicians.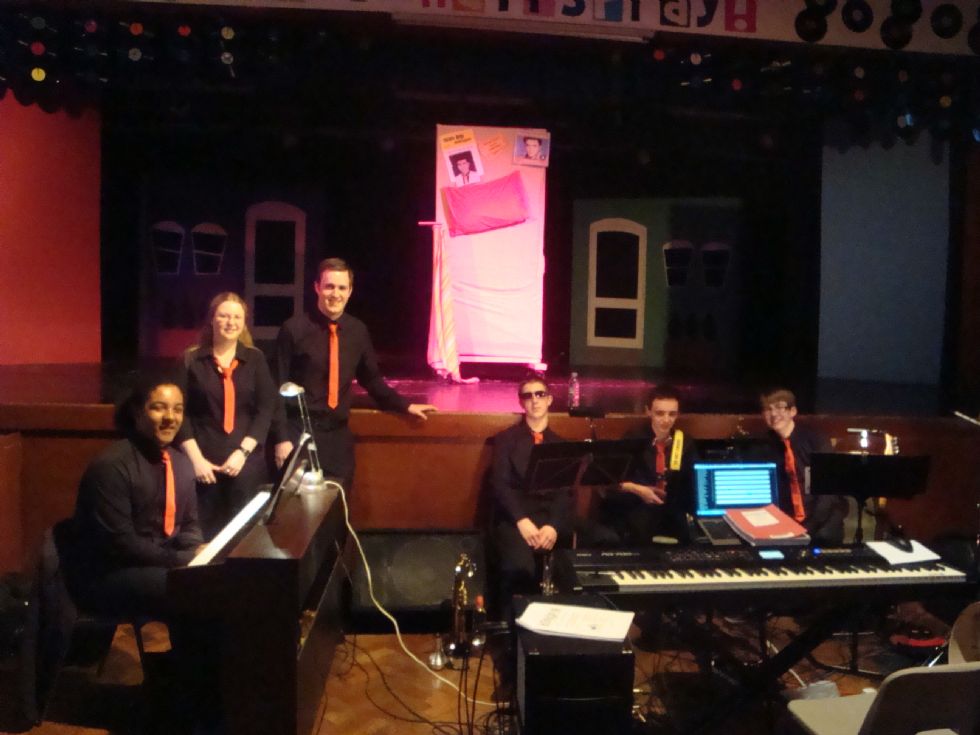 This photo is taken of the band from a joint production wtih Rainham Girls and The Howard of 'Hairspray'.

In class students follow the National Curriculum for Music, and an emphasis is placed on academic achievement and practical experience. As students progress through the school they have the opportunity to take GCSE Music, AS and A2 Music, AS and A2 Music Technology and AS and A2 Performing Arts.

We hope to see you either as a performer or as an audience member at one of our many events throughout the year.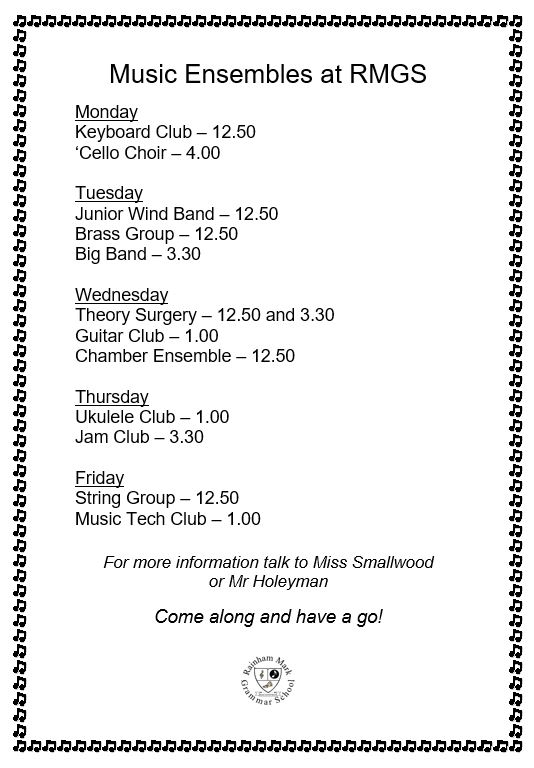 Music Ensembles at RMGS
Other ensembles offered (according to demand):

| | |
| --- | --- |
| | |
| | |
| Music Technology Workshops | |
| | |

Students have the opportunity to book practice rooms during break and lunchtime. Many students take this chance to do individual practice, and others rehearse class pieces or use the time for band practice.

The Music Department is never a quiet place!

Learning a musical instrument
This is a fantastic way to gain a new skill, work on an existing one, or just have fun!
Lessons are given by qualified, experienced professionals. Some of the instruments offered are: piano, drums, guitar (electric, acoustic and bass), flute, saxophone, clarinet, trumpet, trombone, keyboard, violin, and singing. This is not an exhaustive list, so please talk to Miss Smallwood if the instrument you want to play is not mentioned here.
Lessons can be given individually or in small groups (at the discretion of the instrumental teacher).
To apply for lessons collect a form from Miss Smallwood, the Head of Music, at any time.
Do remember that regular, daily, practice is necessary to make progress.

Events
There are many performance opportunities throughout the year for all students. Students can perform as soloists, in a school ensemble, or in a group formed with other RMGS students. Year 7 perform at the Christmas concert as a massed choir.
Month

Event

September

All school ensembles and instrumental lessons start
Year 7 Class Concerts

December

Song Writing Competition winners announced
Christmas Concert
Carol Service
Rock and Roll show as part of charity week

January

Performing Arts production

March

Spring Soiree Concerts
School Musical production

April

GCSE and 'A' level lunchtime recital series
Medway Music Festival

June

Year 7 Music and Drama cross curricular project
Year 8 Music Festival
Year 10 Enterprise Concert

July

Year 9 Class Concerts
Summer Review
The Tommy Emmanuel Recital Hall is also the venue for lunchtime concerts, Music Technology showcases, workshops and demonstrations. These events take place throughout the year.

The Music Department is a lively, friendly place. All students are encouraged to participate in musical activity and to try something new.
Come along and get involved!