2019/20 Leaver destinations
See below a summary of the year 13 destinations after leaving school.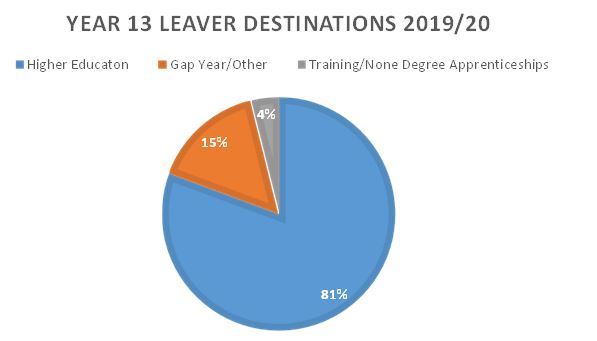 Destinations Data Collection and the Impact of COVID 19
Whilst collecting Destinations information of our previous year 13's there was praise for the staff, some of which I wanted to share. It was clear in making phone calls and sending emails to the minority who didn't choose to go onto university this year, the effect of COVID 19.
For these 'none university' students, more students than last year fell into the working GAP year category, with many continuing to look for higher level apprenticeships or training. In some cases students weren't able to start the opportunities they had obtained or have a delayed start date, due to COVID. Some are saving to travel, if and when they can or reapplying to university for next academic year, in the hope that the university application process and experience may be a better one. Most seemed to be motivated by their jobs, as a way forward to betterment with some considering open university distance learning degrees.
It was clear that students still keen to go onto apprenticeships, had taken on board the pre COVID 19 apprenticeships support and advice offered by the school through our Amazing Apprenticeships representative. Rebekah was involved in delivering an apprenticeships information session to our year 9's and 11's at the County Careers fair. She delivered a post 18 events session on apprenticeships for the leavers, at the end of their Year 12. This was followed by a registration and apprenticeship search workshop for those who signed up to it. We had also planned to offer a further mock assessment work shop, which was cancelled due to lock-down. Rebekah is offering a similar support package to include virtual assemblies and INSET day information talks that I will send staff the details of.
With Rebekah's support, roughly the same amount of students as last year, obtained apprenticeships with companies that included Amazon, Bank of England, Mercedes-Benz and the Government Civil Service. Many of these were degree apprenticeships.
Some Kind Word's:
'Many thanks for all the staff for all their dedication in helping Y through his A levels', Parent of a Recent Leaver doing a Degree Apprenticeship.
'We'd also like to thank all of the teachers at Rainham Mark for their help and support over the years for both T and his brother O. O is just starting the third year of his Maths degree at Warwick and achieved a First in the exams for his second year. He's considering a Masters after he completes his degree.' Parents of a Recent Leaver joining the Marines.
'I am currently in the same role we had discussed at a meeting one time.
I never got the chance to thank you formally, but I truly appreciate the help you provided me with in Sixth Form' Recent Leaver doing a Motor Vehicle Apprenticeship
Recent leavers were given the opportunity to sign up to our alumni database https://www.rainhammark.com/form/?pid=484&form=18 so they can be contacted to help out with any future careers events, so you may still see a few familiar faces in the near future!