Mrs Boughton's story
I have to confess that I didn't know an awful lot about my in-laws time during the war so here's what my brother and sister-in-law have put together.
Memories of Ted & Joyce Boughton (Mrs Boughton's parents-in-law)
Joyce was working at the Labour Exchange as a Clerical Assistant when war broke out. She and her friend, Clarice, decided to volunteer before the national "Call Up" was made. Their theory was that they would join up together so they could serve together and continue their friendship in that way. The authorities, however, had other ideas and Joyce ended up in the WAAF whilst her friend ended up in the Land Army.

Joyce was in Bridgnorth for her training and met Ted who had joined the RAF from his home in South Wales (he was always known as "Taff", although he was actually born in Weymouth!). They married in 1943 and Joyce left the WAAF when she became pregnant with Bryan, who was born in 1944.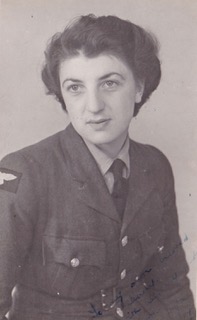 Ted was an anti-aircraft gunner. One of his missions was to intercept V Rockets which would fall out of the sky when their fuel ran out and explode on impact creating tremendous damage. Ted said you could hear the "doodlebugs" as they flew overhead. Then, when the sound of the engine ceased, you could 'hear' silence and a whistling sound as they plummeted earthwards. A terrifying experience, wondering if they would land close by.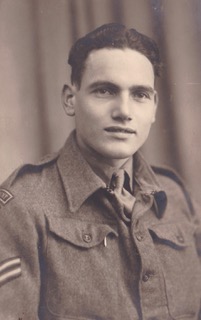 ​​​​​​​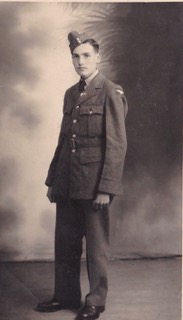 Ted was a Corporal when the war ended, having been posted to Germany after VE Day to help with relief work. We never knew him to be a "sporty" man, but we do have a photo of him in his RAF uniform, on skis, with a cigarette in his mouth!