Joe's story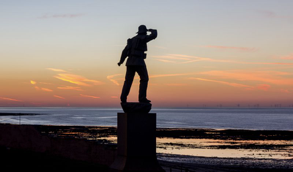 Stories from WW2 are now sadly faint with little detail.
But we have always had a story in my family told by my great grandad that the soldier above is actually HIM looking out to sea.
Although he served as a solider and survived, this memorial is for a previous disaster at sea and is on Margate Seafront. We point him out every time we drive out of town.
Like the Unknown Soldier at Paddington he has always been a focus for our wondering and reflection as our own memories fade and we struggle to fill in the blanks.
I know we will carry on looking out for him every time we visit and wonder if he is looking out across the waves to the future for us.
8th May 2020:
Closer to home we remember the losses and the victories of WW2 because we live close to Pembroke House, a Royal Naval home and there are still war veterans who live there.
Pembroke House make days like VE Day special for them with a military band, garden parties and even the occasional flyover.
Today, the residents all came to the front of the home and we and our neighbours sung and waved to them from across the street. It has been strange in the lockdown but they have endured worse than social distancing - and our singing!