Character education at RMGS
At RMGS we recognise that moral goodness is not like a switch that is simply turned on, but rather it is like a plant that needs to be cultivated—as such, we encourage our students to practise the 6 core RMGS character traits: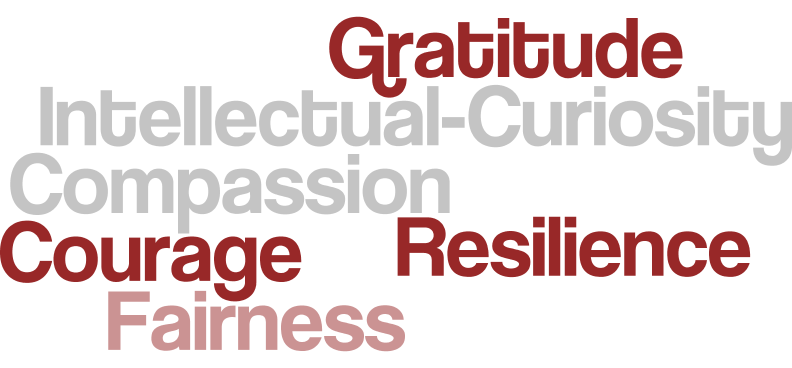 These character traits have an intellectual as well as a moral dimension. Showing courage could mean showing courage in a lesson by risking an answer to a question. In a similar way, to exhibit fairness as an intellectual character trait is to be open-minded and to present ideas in a balanced, reasoned way.
Students at RMGS are encouraged to be intellectually curious. They are invited to attend lunchtime clubs, after-school lectures and to engage with broader cultural ideas. We recognise that intellectual curiosity is a key component of academic success and so too is resilience. Resilience is the ability to adapt and bounce back when things do not go according to plan. The very best learners are not put off by failure, instead they see it as an opportunity to learn and move forward.
Gratitude is acknowledged as an important part of resilience. Those students who are grateful for the time and effort that their teachers give are more likely to think about how they can improve their work rather than blaming others for their failure or giving up.
Every student at RMGS is expected to be polite and thoughtful, and to take pride in their appearance, their attendance and their punctuality. They are expected to respect their teachers and to show determination by always working to the best of their ability in class work, homework and by completing any missing work. We expect our students to demonstrate co-operation by working with others to make their school environment and their local area clean, healthy and safe. We also expect our students to serve others by engaging with charity week and outreach activities.
Moral and intellectual character development is essential for the emotional well-being of our students. Employers and universities are recognising character as the missing essential ingredient in some young people. At RMGS we believe that character development is essential for flourishing not only in school but in the life beyond.